"2D Fokker-Planck models of rotating clusters"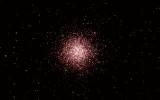 (back to main)
---
We use the method developed by Goodman (1983) based on the solution of an orbit-averaged 2D Fokker-Planck equation, written in terms of E, Jz (isolating integrals of moltion in a general axisymmetric potential):

Where

&nbsp and &nbsp

(cylindrical coordinates

were used)

The initial models are rotating King models of the form

Where:

E: energy of the system,&nbsp Jz: angular momentum,&nbsp Ω0: central rotational velocity


,&nbsp σc: central velocity dispersion

Initial conditions are determined by:



,dimensionless angular velocity (rotating parameter)
G=1, nc: central density



,dimensionless potential (King parameter)
Φt: tidal potential

The age of the system is given in units of the initial half mass relaxation time:




rh is the half mass radius and M the total cluster mass. The dynamical time scale t0 is defined in Cohn (1979) .

The dynamical ellipticity is calculated following Goodman (1983), given by


Where s ≡ b/a = 1 - edyn, Trot is the rotational energy, TσΦ is the energy contained in the azimuthal component of the velocity dispersion and Tσ represents the energy of all components of the velocity dispersion.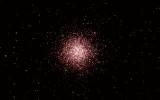 (back to main)
---
Initial parameters of the 12 rotating cluster models.
TABLE 1
King parameter Wo
rotating parameter ωo
3.0
0.0
0.30
0.60
0.90
6.0
0.0
0.30
0.60
0.90
9.0
0.0
0.06
0.08
0.10




(back to main)

---

Evolution grid in interval coordinates for the 12 models. The cells contain the total number of datasets available for the grid point with given time and ellipticity.

TABLE 2
Ellipticity
Time (t/trh)
(0,2)
(2,4)
(4,6)
(6,8)
(8,10)
(10,12)
(0.00-0.02)
59
16
40
93
58
58
(0.02-0.04)
5
24
15
10
(0.04-0.06)
8
27
9
14
(0.06-0.10)
28
62
11
2
(0.10-0.15)
19
24
3
(0.15-0.20)
6
7
(0.20-0.25)
4
(0.25-0.30)
5
(0.30-0.50)
3




(back to main)

---

We present the evolution in time of global parameters, classified by initial King- and rotating parameters (see description below)

TABLE 3

| Model (Wo, ωo) | Datafiles |
| --- | --- |
| (3,0.00) | time030_000 |
| (3,0.30) | time030_030 |
| (3,0.60) | time030_060 |
| (3,0.90) | time030_090 |
| (6,0.00) | time060_000 |
| (6,0.30) | time060_030 |
| (6,0.60) | time060_060 |
| (6,0.90) | time060_090 |
| (9,0.00) | time090_000 |
| (9,0.06) | time090_006 |
| (9,0.08) | time090_008 |
| (9,0.10) | time090_010 |